SPS Envirowall - The Future of Facades
How can we help you today?
About SPS Envirowall
SPSEnvirowall has for many years led the way in the supply of external wall insulation systems and high-quality decorative renders to the building and construction industry.
Our products are suitable for both low and high-rise buildings, from masonry to framed construction. An extensive range of award winning innovative insulation systems are perfect for increasing the EPC rating when refurbishing an old building whilst our decorative finishes give an aesthetic uplift. Our products are also ideal for use in new build applications.
All of our products are rigorously tested by industry-leading organizations such as BBA, CERAM, and BRE, and have been used throughout the UK and continental Europe for over 30 years. They greatly improve the thermal efficiency of any building and help cut CO2 emissions. Choose SPS Envirowall for high-quality external insulation solutions that are both innovative and sustainable.
Why SPS Envirowall?
One
Supplier

Our joined-up approach negates the need for you to reach out to numerous component and system suppliers; we offer you a simple and reliable supply chain.

Huge Range
of Products

From timber to steel frame, high to low rise, internal to external wall linings and buildings with high weather exposure, we can offer a solution.

Testing &
Accreditation

We believe we operate one of the most far-reaching certification and accreditation processes in the industry.

Technical
Support

Our comprehensive testing and accreditation process is backed by technical and design support.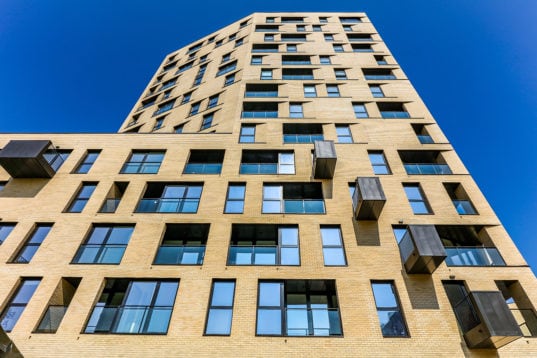 City Park West Case Study
Essex
Located on the former Anglia Ruskin University site, in the heart of Chelmsford, City Park West is a newly created vibrant community. City Park West offers nearly 650 houses including shared ownership,...
Case Studies
Essex University – Pastures Campus

Colchester

The campus in Colchester, which is home to 15,000 students, is undergoing a massive phased transformation....

Uilebheist Distillery

Inverness

Inverness is to be home to a new £6 million whisky distillery and brewery, for the first time in nearly...

Polden House Case Study

Bristol

Built in 1965, Polden House, a high-rise tower block in the suburb of Bristol has undergone a multi-million-pound...

Wheatstone House Case Study

London

Eye-catching, fire-safe Cavity System 2 and SpeedySlip Brick Façade for Wheatstone House, London What...

Solihull Retirement Village Case Study

Solihull

With 260 homes, Solihull Retirement Village is a new architectural identity and important gateway site...

Earlsdon Retirement Village Case Study

Coventry

As part of the phase 2 development of Earlsdon Retirement Village in Coventry, SPSenvirowall and RCM,...

The Tramyard Case Study

London

Award-winning London property developer Joseph Homes has launched a collection of stylish and vibrant...

Warmer Streets Case Study

Dartford

The Warmer Streets Dartford project was set up after Dartford Borough Council secured £3m worth of Green...

Merthyr Town Case Study

Merthyr Tydfil

Merthyr Town project is a blended funded programme consisting of Welsh Government Funding, Eco and Landlord...

Normand House Case Study

Cwmbran

Normand House is a refurbishment project and is part of a £500 million scheme set by Bron Avon Housing...

Bestwood Estate Case Study

Hucknall

Completed in 2018 and shortlisted for an INCA Refurbishment Award, a series of flats, houses and bungalows...

Hunters Close Case Study

Plymouth

Some 132 properties in Hunter Close, Plymouth have been upgraded with the application of SPSenvirowall's...
Contact Us