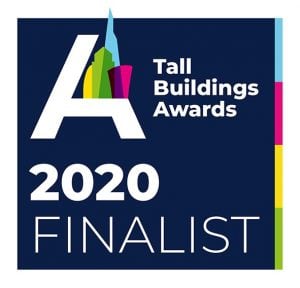 Benx is proud that its new innovative Cavity System 1 solution has been announced as a finalist for two awards at the Tall Building Awards due to be held in May 2020.
The Tall Building Awards is new for 2020 and offers the opportunity to place any construction firm at the centre of tall buildings innovation and celebration. Several large construction firms are all participating to win a prestigious accolade at the highly anticipated awards.
The Cavity System 1 is amongst eight other companies with innovative projects to have been shortlisted for both the Best Tall Building Façade Engineering Project and Tall Building Technology Innovation Award.
The project and innovation shortlisted comprise of student accommodation for up to 500 occupants. The Helm development by Watkin Jones utilises SPSenvirowall's Cavity System 1 which was expertly installed by 2nd Generation Facades.
Cavity System 1 creates a drainage void between the cladding and the sheathed framed structure and is the next generation of this solution and addresses the challenges of the design and supply of cladding systems.
The speed at which the LSF and insulated cladding can be erected and weatherproofed, provides extensive benefits to developers, often removing the cladding from the critical path, bringing forward the internal trades and thereby shortening the contract period, thus eliminating the problems associated with brick and blockwork construction.
The SPSenvirowall Cavity Systems consist of EuroClass A1 components, which are mechanically fixed back to the inner sheathing board to create the designed cavity width, with either the insulation board fitted directly to the A1 fillets (CS1 system) or a secondary A1 sheathing board and insulation (CS2 system).
As part of the Benx Group of companies, our people and our clients are at the core of everything we do, where we strive to encourage a culture of collaboration, integrity and excellence and we are delighted to be recognised at these prestigious awards.
We look forward to celebrating the engineering achievements of our peers at 99 City Road, London in September where the Tall Buildings Awards look to create "a legacy of iconic super-structures that are transforming the built environment".