Rockwool EWI Dual Density Slab
Mineral wool insulation for EWI Applications
Rockwool External Wall Dual Density Slabs are a premium insulation board composed of mineral wool, which is a very similar material to fibreglass. While fibreglass is made up of thousands of glass fibres, Rockwool is made from molten volcanic rocks. The material is produced by heating the volcanic rock within a large furnace, then spinning it into fibrous strands and compressing it into boards. As a vapour-permeable insulation material, the boards are ideal for use with a breathable thin coat render such as EWI Pro's Silicone Render. Rockwool is the insulation material of choice for architects and builders alike.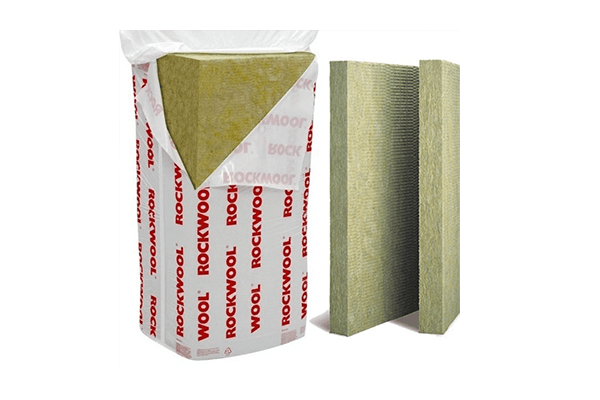 Rockwool Dual Density insulation boards are completely non-combustible. The insulation boards have achieved a Euroclass rating of A1 for non-combustibility – this is the highest rating that an insulation material can achieve. With fire-safety being so topical and of such importance, the Rockwool insulation goes extra lengths to offer complete assurance against the threat of fire. With its ability to withstand temperatures of up to 1,000ºC (1,800ºF), the Rockwool insulation helps to effectively contain and prevent the spread of fire. At the same time, the stone wool will not produce any toxic smoke or emissions. This makes Rockwool insulation the ideal product for areas of urban development, and for high-rise structures.
When you choose Rockwool External Wall Dual Density Slabs also improves acoustic insulation. The open porous structure of the stone wool means that the boards are able to absorb and reduce the impact of sound, enabling homeowners to enjoy a comfortable, quiet internal environment. In highly populated areas or for homes and buildings that are within close proximity to road traffic, the benefits of this are unrivalled.
The Rockwool External Wall Dual Density Slab is specially crafted to be ideal for external wall insulation. The boards are called 'dual density' because they are made up of two different density layers of wool; a low density for the subsurface and high density for the exterior. The lower density will accommodate slight imperfections in the fabric of the building, and the higher density top layer is the ideal surface for the application of renders. Rockwool external wall insulation boards require metal pin mechanical fixings as well as a strong adhesive to tie them to the wall (a minimum of 7 fixings are required per m2).
get in touch for more information about our insulation
Contact Us