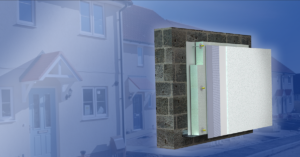 The UK housing sector is faced with the enormous task of reducing its carbon footprint: according to the UK Green Building Council, the UK built environment (structures and infrastructure) accounts for 25 percent of all greenhouse gas emissions. Moreover, a recent United Nations report indicated that the construction sector itself is responsible for 38 percent of all global emissions.
The Climate Change Act of 2008 set out a plan to decrease greenhouse gas emissions by at least 80 percent, compared to 1990 levels, by the year 2050. To strengthen this commitment, secondary legislation was passed in June 2019, creating a legal obligation to reach "at least 100 percent" of emission reduction.
The UK has the oldest and least energy-efficient housing stock in Western Europe, due to the significant number of older 'solid wall' properties, built without insulation. Therefore, we are especially vulnerable to increases in the price of gas. Many homes in the UK are very poor at retaining heat, forcing homeowners to keep the heating on for extended periods of time, resulting in not only higher monthly bills but also an unwelcome burden on the environment. On top of that, Europe's historical dependence on Russian gas means that supplies are not as readily available as they once were, resulting in massive price hikes.
Insulating our homes is an essential step in tackling both the energy crisis and meeting the government's 'net zero' goals. Because of the UK's large number of solid wall properties, external wall insulation (EWI) is a vital part of the solution..
EWI systems comprise a number of elements which work together to dramatically enhance the thermal performance of the exterior walls. The insulated facade is often finished with a decorative weatherproof render which is available in a range of textures and colours, offering a level of customisation. Alternatively, clay or acrylic brick slips can be used to create a 'brick wall' effect finish.
Improving the thermal performance of a building's external envelope using EWI can greatly diminish the loss of heat and boost its warmth in cold weather. This is done by optimizing the U-value, a parameter which indicates how efficiently a building element conducts heat. A higher U-value indicates a more energy-efficient building, requiring less energy – and lower cost – to maintain a comfortable indoor temperature. EWI also reduces the carbon emissions that stem from energy consumption, helping to combat climate change. Furthermore, by enhancing indoor comfort, eliminating moisture and condensation, and improving air quality, EWI can enhance the health and well-being of the home's occupants. An additional benefit comes in the form of the improved aesthetic appearance of the property. For individual homes, this can make a home more attractive to potential buyers, while for larger buildings, EWI refurbishment has been shown to create a sense of pride in the surroundings, contributing to urban regeneration.
For more than 20 years, SPSenvirowall has been a leader in the supply of EWI products and systems. We work with many of the country's leading specialist installers, and offer a wide portfolio of independently-tested and certified systems. We are proud to have helped eliminate thousands of tonnes of CO2 emissions over many years.