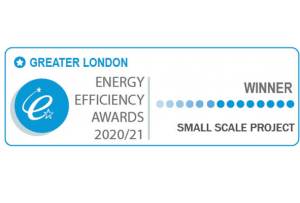 The 2020 Regional Small-Scale Project of the Year Award rewards one exceptional project, in each of the 11 Regional areas around the UK, where energy efficiency measures of less than £250,000 have been installed.
This award recognises the efforts of all those involved locally in delivering a successful small scale energy saving project, while maintaining excellent customer service that demonstrates a high standard of quality workmanship throughout the project.
Our project on Canterbury Road was among the nominees for the Greater London Regional Small Scale Project category at the Energy Efficiency Awards in Ealing.
Presented by Gary Braybrooke, CEO of the Energy Efficiency Association, the regional awards are presented in the areas of energy saving, energy efficiency and quality of skills and services offered from nominees.
Benx supplied 1,600m2 of 120mm mineral wool with acrylic slips and render for a multi storey residential build for Providence Group in Croydon. Installed by sub-contractors Square 1, the TS Rail System was specified for its light-weight, speed of installation and cost effectiveness as well as the requirement for an A-rated insulation board.
Completed in the spring of 2019, the attractive multi storey residential building was finished on schedule and features a buff acrylic brick slip with a red feature band. The property is now on offer for sale by housing association Optivo, one of the largest housing providers in the UK.
Winners were revealed at the Double Tree by Hilton Hotel, London on the 16th July.